Bagi meningkatkan kesejahteraan warga Kuantan, Majlis Bandaraya Kuantan akan menjadikan Pusat Peranginan Teluk Cempedak sebagai ' Zon Sihat Bandaraya Kuantan' (Kuantan City Healthy Zone). Beberapa elemen akan diberikan penekanan dalam menjayakan agenda ini termasuklah menguatkuasakan Pusat Peranginan Teluk Cempedak sebagai zon larangan merokok, penganjuran aktiviti kecergasan fizikal secara berkala serta memastfish there is at least one healthy food menu sold at every food premise here.
Program yang mendapat kerjasama daripada Jabatan Kesihatan Negeri Pahang ini diharap dapat mempromosikan cara hidup sihat di kalangan penduduk Kuantan dan seterusnya dapat dipupuk sebagai budaya setempat bagi mensejahterakan masyarakat. ' Zon Sihat Bandaraya Kuantan' ini akan diperluaskan ke kawasan tumpuan lain pada masa akan datang bagi memastikan impaknya adalah lebih meluas.
For a start, the Council together with the District Health Office will focus on the enforcement of the smoking ban zone at Teluk Cempedak Beach.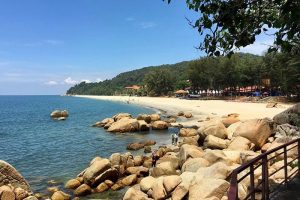 4,130 total views