Cempedak Bay Beach
Teluk Cempedak beach or better known as TC is quite famous among visitors from all over the country, let alone those who come from the state of Pahang itself. This beach is quite synonymous with the district of Kuantan and its popularity is also comparable to the infrastructure built around it and makes this location as a destination of choice for visitors during the holiday.
There may be some of you who have not visited this beach for a long time. It is located 5 kilometers east of the city center in Kuantan. The beach conditions are white sandy and cassuarine and pine trees cross the beach, with several rocky headlands overlooking the South China Sea. The fishing village of Beserah is only about 5 kilometers away (3.1 miles).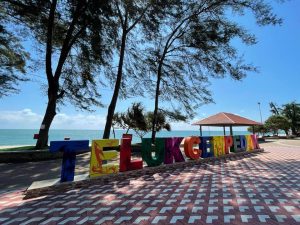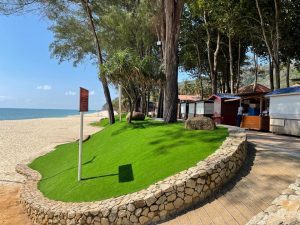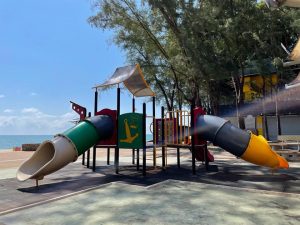 Beam Beach
Among the beaches that have their own attractions is Balok Beach which is located about 15 kilometers north of Kuantan. On this beach there is a recreation center that provides camping facilities to the public and is ideal for outdoor activities whether for uniformed associations of schools or families. Its suitability with various recreational activities also makes this beach often a choice for many parties in Kuantan for family day activities. For the locals here, Balok beach is an ideal destination to relax on weekends because of the comfortable and shady beach conditions and shaded by ru trees.
This beach is also often used as a place for recreation in the evening such as jogging because of the wide length of the beach while the fresh sea breeze blows. Apart from that, the basic facilities in this area are also complete such as bathroom facilities, changing rooms and public toilets. In the meantime, around the Balok area there are also many food stalls run by the villagers with a variety of appetizing dishes such as grilled fish, keropok lekor and Thai-style cuisine. Around Balok, visitors can also get fresh fish and other seafood from several fishing villages nearby.

View of Kuantan City
Witness the scenery of Kuantan city, a planned combination of skyscrapers, fishing village settlements as well as the lush green environment along the Kuantan River.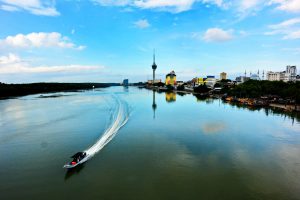 Sertai perjalanan istimewa ke muara Sungai Kuantan sahaja setiap malam hari Jumaat dan Sabtu, rasakan kedinginan udara sambil melihat pemandangan indah dan berwarna­-warni bandar Kuantan.

Mangrove Garden Path
Hutan Simpan Bakau seluas 339 hektar yang menghijau sepanjang Sungai Kuantan dipercayai telah wujud hampir 500 tahun dahulu. Kedudukannya strategik, di tengah-­tengah pusat bandar Kuantan menjadi daya tarikan kepada pelancong dalaman atau luaran untuk melihat keunikannya yang masih terpelihara.
The Mangrove Park has two trails as far as 250 meters and 750 meters, to allow you to explore the natural beauty of this forest without having to step on the mud. Enjoy the scenery along your route, climb the 40 meter high tower to see the whole view of this forest reserve. Discover the various species of animals and plants and the uniqueness of the roots of mangrove trees.
16,885 total views